Multiple Bingo Cards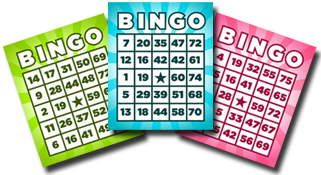 After a long wait, we finally have a way for users to buy their own bingo cards. Here are some ways to win them. The max you can use is no more than 3 additionals at a time per round. Be sure to be in the
Bingo Maniacs Group.
Dice Roll!
The first way is to win them. Throughout bingo events, a dice roll will be done. If you win an additional bingo card it will be dropped into your account! Must be present at the event to win.
Therebucks!

The second way to get them is by therebucks! We will announce when therebucks will begin.
Point System!

The third way is to use your points. Throughout the games, you've been receiving points. Over time, they accumulated which was the point for this new feature. We wanted people to be able to use their points if they choose to instead of purchasing with therebucks. To purchase your bingo card click My Settings. The cost will be 1000 points.
When multiple cards will not be used?
A. Multiple cards may not be used during the following times:
Island Games
There Games
Special Prize Giveaways.
During a non-scheduled bingo event.*
*This will be decided by the host.
How to use the Multiple Cards?
EASY! During bingo the host will enable the system to allow users to purchase additional cards. Once enabled you can purchase your cards or grab them during the game. On the bottom of your bingo card under the voice it will ask you how many you would like to use. The MAX you can use is 4 total including the free card you receive. As stated, you can purchase your cards with your points, therebucks, or win from a dice roll. To purchase additional cards visit
My Settings.
There are no limits on buying them, just a limit on how many you can use per round.
Prices and changes may occur in future. If it does we will let you know. Good luck to all bingo players!
-Bingo Maniacs Team